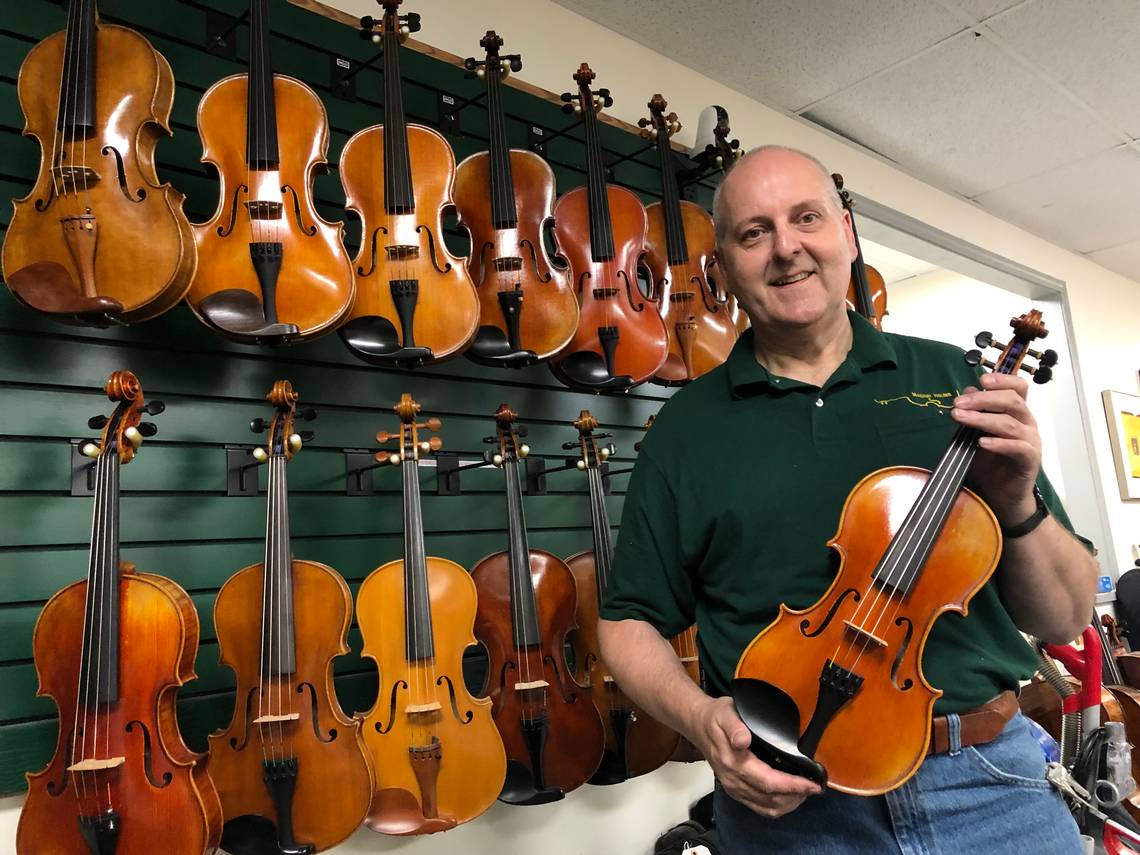 It should come as no surprise that Simon McHugh loves selling and repairing stringed instruments.
For one thing, he's enamored of the objects he works with – violins, violas, cellos, basses and their bows.
"The physics of a violin are just amazing," he says, explaining how the instrument's upper surface amplifies sound by vibrating even though it's securely connected to the sides of the instrument.
McHugh Violins has been in business since 1985,  but owner Simon McHugh has been working on violins since 1978, when he completed the "Musical Instruments, General Repairs" course at Newark Technical College in England, graduating with merit.
During his training, each student spent half of the time learning violin repairs and basic making hand skills, and the other half with woodwind related restorations. Simon learned early woodwind restoration, including woodturning and silversmithing which eventually enhanced the skills needed for bow work.
Simon grew up in Stratford-upon-Avon – Shakespeare's hometown – and completed a two-year course in instrument repair in an English technical institute before being hired by the Wichita Band Instrument Co. over 40 years ago. He remembers stepping off the plane here to encounter 96-degree heat he'd never experienced before.
Six years later, he struck out on his own, working first out of his home and then in the first of three locations his business has occupied. He moved into 2,500 square feet in Hillcrest Plaza at Harry and George Washington Boulevard in 2010.
Most of our customers are middle, high school and college students and the members of community orchestras from across south-central Kansas.
"Mine tend to be not the first instruments people own – once they get the bad instrument out of the way, players appreciate better strings, adjustment, and set-up."
The shop does final assembly of the new instruments it sells, fitting in tuning pegs, hand cutting bridges, installing quality strings and other parts to fit individual customers, or often to the specifications of those clients' teachers.
" The violin is hard enough to play without having to struggle with a poor set-up," McHugh said.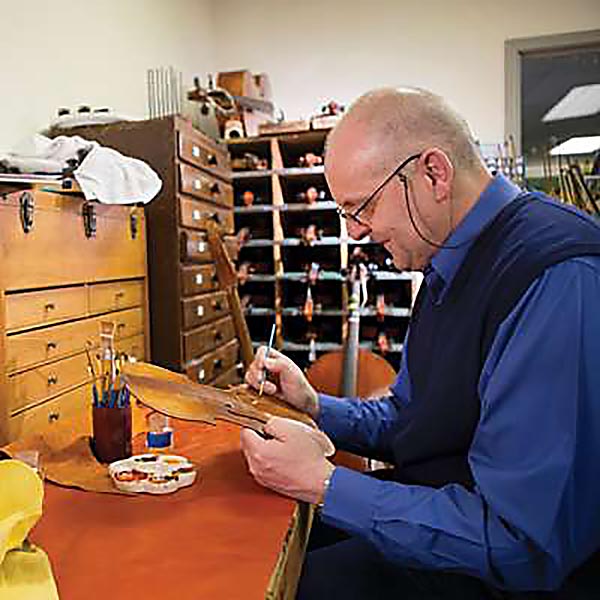 He said his philosophy is to "do it right now, and you don't have to worry about it later." He adds, however, that he tends to honor the instruments' warranties long past the two-year period he quotes to customers. "If I recognize it, I work on it."
Most of his inventory comes from Europe and China, and ranges from tiny new violins intended for beginning Suzuki Method students to those any professional would be happy to play. Some of the most valuable instruments the shop carries are older violins McHugh acquires with the help of investors, restores and then sells. Prices are based on "who made it and when, and is it correct. It's more than just the label inside."
McHugh says he plays violin "just enough to know what's wrong with an instrument." Rather than a musician, he considers himself a kind of "doctor" who other musicians come to for help.