McHugh Violins carries a wide variety of bows for all playing levels and preferences, from Brazilian Pernambuco wood bows, modern Carbon-fiber bows, to entry-level fiberglass bows.  We encourage customers to try as many alternatives as possible, within their given budget.
Pernambuco Bows
Clearly, teachers and many professionals tend to lean toward wood bows because that may be all that they and their own teachers were familiar with. The best wood bows routinely purchased here are the Brazilian-made Pernambuco wood bows, with nickel mounts. They generally "list" for $580 to $620 from various suppliers.
CodaBows
Times change and technology is closing the gap. We offer the CodaBow line of carbon fiber bows that offer excellent playability, action, stiffness and durability at a competitive price.  Compared to one of our typical Pernambuco wood bows, the corresponding CodaBow model is the Diamond NX which now sells for $455.00
Come in a try one out! All that we ask is that you compare a quality carbon fiber bow to a wood bow – and may the best bow prevail…

American-produced carbon graphite bows have a category of their own. They feature beautifully finished sticks with various mounts on the frogs. The CodaBow company dominates this segment, and after 40 years in the trade, I believe that the NX bows are equal or better than their relatively-priced pernambuco wood counterparts. Honestly, a CodaBow should be included in your search for the most appropriate bow anyway. We try to give on approval 2-3 nice pernambuco wood bows and one CodaBow for comparison. Here are the prices of the most popular bows sold here. For a full list of their range, do explore their website at www.codabow.com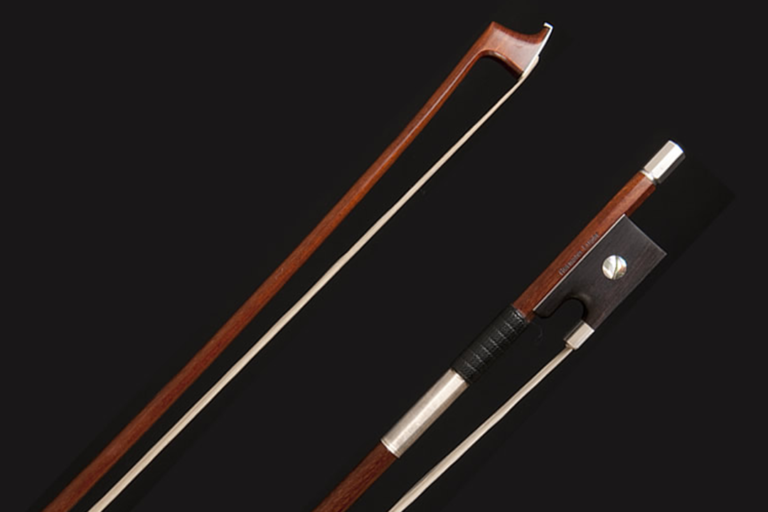 Pernambuco wood bows used to be the standard of the industry, but these days tend to only dominate the $600 –plus range. This wood is from Northeast Brazil and has an uncanny ability to be bent under dry heat and maintain the new shape for years if not decades. Ours are from various Brazilian makers, and starting prices are around $450 for a nice quality nickel-mounted version. The silver mounted ones are about $900 and up, and the gold mounted bows are now over $2,500.
Older European bows are periodically available, generally with sterling silver mounts, and start around $950.
These are very basic sticks that function well and are so inexpensive that replacement, rather than rehair, is actually cheaper. Ours are the Chinese student brands that sell for around $49 (for violin bows…viola and cello, a little more.)
The Howard Core #1088 fiberglass bows form the basis of this range. Truthfully, our teacher customers find them to be so much better balanced than the well-known American brand…
Carbon graphite bows (Chinese)
Carbon graphite bows are very strong, well balanced, and very versatile. We try to ignore the very cheapest of these because they still suffer from head breakage problems, but for around $119 the more cleanly made ones from China are extremely useful. We like the woven (tubular weave in the resin) styles at $119 for violin. Middle and high school students often prefer them to pernambuco bows. Viola, cello and bass examples are available for proportionally more.